Peter Wouters his STIES Scania R500
Peter Wouters, of the same name transport company PWT Thermo, called me a while back with the question if I still was in contact with Øystein Stie. I told him that every now and then I'm calling him. Peter had a plan to buy a truck and paint it in the Sties colors, but didn't know if it was alright to use Stie his name.
I told Peter I would ask Øystein Stie if it was alright. Øystein Stie was surprised, but already used to people asking him about his former transport company. Peter got permission and could go making plans.
He searched for a Scania R500 in Denmark and found, and bought, one there. Then he could start with restoring the truck. To do this, he asked SVB, Stefan van Bunder, to help him. This company is run by Stefan himself, as a self-employed person, who learned all this from his dad. He began with repairing motorcycles in the back of the garage. Later he started painting cars and even later he began with trucks and trailers. Stefan has already done some painting jobs for Peter earlier on, so he got the assignment of painting the Scania. Most of the work Stefan does alone, but sometimes he gets some extra help.
 When a used truck arrives, the first thing they do is clean it. This was almost two days of work. After that, the truck got stripped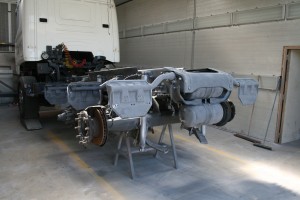 of various parts, fenders, crates, dish, etc. A lot got sanded and after this, the chassis and the wheels got painted.
Then the big moment came, they needed to paint the cabin. They took a good look at how everything should be, because an R series in Sties colors is different from a Scania 3- series or a Volvo FH12. Stefan did a good job, as you can see on the pictures.
The trailer that's going to get behind the truck, is also painted by Stefan and soon will be mounted.