My Own Experience with Arve
I would like to write a piece about how I've experienced Arve myself, although I haven't met him that often, the times we talked were always impressive. Especially since he could not only tell much about Sties, but also because he liked his job and was driven to keep his car clean and maintained.
"My truck is the business card of Sties," he said.
I also have made some pictures of his car, even before I knew him.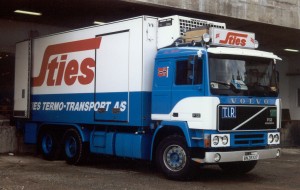 He then drove with a Volvo F12, with Sties advertisements. This car attracted my attention when I walked around the terrain at Lysaker, when I was there. The Volvo was equipped with a white sun visor and his name on the side of the roof.
Later on it appeared that he was on the same boat to Kiel as we were, when I went back to Holland in an Uhlens truck. I noticed Arve was a special person, because aboard he quickly had a lot of friends around him. There was much talking and laughing, so a great atmosphere.
With Arve you never got in trouble, he helped everyone he could.