The History of Sties
1957
The Company Sties Termo Transport LTD. was established by Øystein Stie.
Sties first truck was a Scania Vabis L71 (Regent) 1956 model with trailer. The truck had isolated containers fir transporting frozen spinach by order of Fionor Products, using dry ice to refrigerate.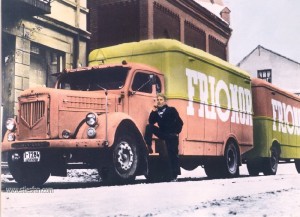 1961
Sties first truck with refrigerator was set into duty. This was the first truck painted in the well known colours, blue and white. This was the biggest and finest thermo-truck that until then was built in Norway, and the truck got great coverage when it was delivered.
The new truck lead to the transport of cool and frozen goods over long distances. We where then able to transport goods for Frionor Products to Europe and due to our good quality the demand increased.
Consequently, the export of frozen products made possible the transport of fruits and vegetables from Europe back to Norway. The first import was bananas from Hamburg, which quickly lead to the transport of vegetables from the Netherlands and fruit from Spain and Italy.


 1970
In the following years, the demand of meat and fish transport increased. Sties became the biggest and best carrier specialized in refrigerated transport within Norway, with a fleet of trucks that were no older than 3 years.
Gradually the Sties drivers became well known in Europe with customs and forwarding agents, and not to forget they learned how to navigate through the European countries.


1980
Sties began with transports to Russia which at this time was a closed country with very strong restrictions on permitting temporary visas. Russia would have the transports for themselves, and they would not let any foreign drivers into their country.
The Russian government cleared 20 pf the drivers for driving inside Russia. The drivers stayed on Finnish/Russian border and were on the Russian side for as short as possible. Sties came through with 200 transports of meat to Moscow and St. Petersburg (Leningrad).


1982
The development of breeding salmon production in Norway generated an increased demand for refrigerated transport. Our response to the market's needs was the building up of a new terminal for fish capable to absorb large amounts of fresh salmon as well as new routines for managing such quantities.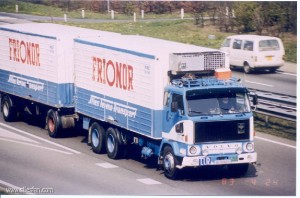 1984
Sties Termo-Transport A/S changes the brand image on the trucks and developed and implemented a new special traffic system for following up orders and tours, with invoice and settlement (credit notes to conveyors). According to the new system all charters got their own terminal and doing all their jobs
Sties had now been approved as one of the best thermo transport companies in Europe with very high standards on both material and personnel. The same year a fan club for Sties was established in the Netherlands.
1985
Sties began building a new office, including a fish terminal and refrigerated store room in Lysaker outside of Oslo. During this year, all departments got connected to our centralized traffic system and used terminals in it's day-to-day job.
1986
Sties moved into a new building in Lysaker. The same year the company was sold by Øystein Stie to Kosmos.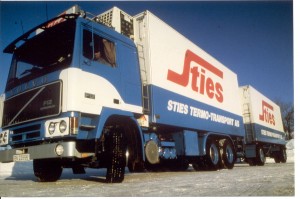 1987
From this year onto the year 1991 the fleet grew up to more than 100. The prior, due to an increasing transport demand, Sties realized some competition by newly established firms within the thermo-market.
1991
Kosmos sold Sties to Nor-Cargo AS, whereas Sties would be meant to provide a complementary service within the Nor-Cargo services. That is how Sties started its development within Nor-Cargo.
1992
The first office abroad was established. Sties Termo-Transport Denmark later changed its name to Nor-Cargo Thermo Denmark (1996). The office is located in Haderslev, Denmark.
1994
Sties Termo-Transport A/S moved to Skårer outside of Oslo where the new headquarters was placed, with a fish terminal, rooms for frozen and refrigerated goods and an office building.
1996
Sties Termo-Transport A/S changed its name to Nor-Cargo Thermo AS.