With Betsy to Spain
1963. Sties first carriage with fish to Spain. We were loading the fish by Frionor in Trondheim to deliver in Madrid. It was a long way to drive. The distance from Trondheim to Madrid was about 3600 kilometers. Spain was under the dicta tor ship of General Franco. The border controls were very strict and it was difficult to get permission to drive trucks into Spain. There were soldiers and police everywhere to observe and control you. They also told you to be careful not to mention Franco's name in a conversation in a foreign language. Then the police might pick you up and bring you down to the police station for interrogation.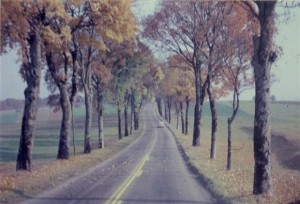 At that time there were no motor ways on the way to Madrid, except Autobahn Hamburg – Bremen and about 20 kilometers outside of Paris. We had to drive on the ordinary roads.
The roads went through the cities and villages, not around them like today.
When the Autobahn ended outside Bremen we had to drive through the streets in the city centre of cities like Bremen, Antwerp, Brussels, Paris, etc. Sometimes we might use as much as two hours to drive through a big city.
Customs clearing was done at Irun border near San Sebastian. We had to be there early in the morning if we wanted to finish customs clearing the same day. To contact the forwarding agent we had a walk about two kilometres from the border, into Irun town. Then a walk back again to the border for more waiting. After the "siesta" the forwarder agent (we called him "Speedy Gonzales") came to the border at full speed on a moped with custom documents in a black bag on the luggage rack. Finished with the custom clearings, "Speedy Gonzales" was our guide into town.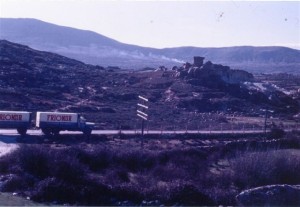 With his moped first and the truck behind, we drove to the veterinary on a small street. The veterinary only filled up a bag with fish and said buen viaje.
After about ten hours in Irun we left to go into Spain on the road to Madrid.
In Madrid we only had an office address to the importer company. We did not have a delivery address. The company address was in downtown Madrid . We parked in a great avenue outside the office, went into a big reception and told them that we had a truck with 20 tons of fish parked outside in the avenue.
The managing director invited us into his office. He wanted to listen when we told him about the long carriage from Norway. Then he called a restaurant in the avenue, and immediately after there came a waiter into the office with food for us. We needed food after several days in the truck the director said.
Because we had not been in Madrid before, he said that we had to see Madrid by night. But there were some problems. Then he said:
Today it is Wednesday before Easter. Tomorrow most things will be closed. You have to unload 33 kilometers outside Madrid . If you do that today you will not be finished to go out on the town later. How is the condition of the fish?
We told him that the fish had a temperature of 22 degrees below zero, and that the fish had been in that condition all the way from Norway. Then he said:
 "The cold-storage is also closed tomorrow. But I will arrange for you to unload tomorrow. You can park your truck round the corner. I will take responsibility for my fish. I will buy you a hotel room, and you go out and see Madrid by night. You must promise me to meet at your truck tomorrow morning at seven o'clock. I will have one of my men there to guide you to the cold-storage."
The managing director booked a room at a hotel, called for a taxi, and wished us a good time. And we saw Madrid by night.
No one has time for a kindness like this today, how it was in the Good Old Days.
Ready for oil change (Picture below).
We had to do an oil change on the way. Scania Vabis Super engine (turbo) required new motor oil every 5000 km. The distance Trondheim – Madrid – Trondheim was about 7200 km. The right kind of motor oil for this engine was not accessible in Spain or France. We had to buy a bucket with 20 litres of oil in Norway and tied it on the roof of the truck.
We usually changed the oil on the way back to the Spanish border, on the mountains between Madrid and Burgos. We found a place where we could make a hole in the ground outside the road. After driving the truck over the hole we crawled under the truck and let the oil go into the hole. After filling up with new oil we covered up, and no one could see we had been there. At that time no one knew that oil requires special treatment.
Spanish shepherd I the mountain outside Madrid.
The shepherd got the empty oil bucket from us. He was very grateful, and posed willing for a photo. After we had unloaded the fish we drove out of Spain without cargo in return.
There was very strict permission regulations for carriages in Spain. To be allowed to load goods for return carriage, one had to drive the same route out of Spain as one drove in, and cross the same border.
At a later time we went from Madrid to Valencia loading plums for Norway. Then we passed Madrid to get the return-cargo, and we went to another border out of Spain. Customs- and police officers at the border discovered that we did not keep to the regulations. Because of this Stie's trucks did not get a new permission for carriage in Spain the next six months.
In that period Stie had to use a truck from another truck company to serve the carriage to Spain. After that we had to go with an empty truck from Madrid to French – Spanish border La Janquera to load Spanish fruit and vegetables in return to Norway. Beside us the Spanish trucks drove to the border with our cargo. At the border we were loading the cargo bound for Norway from the Spanish truck on to our truck.
Jan Sunlay